If you have read
part 3 of Mason's diagnosis story
, you know how terrible last year's Halloween was for Mason. After looking forward to it all month, he didn't get to participate in most of what he was excited for. Although he got some trick-or-treating in (which I have no doubt was a small miracle he was blessed with), he spent most of that day and night throwing up, sleeping, and feeling terrible.
This year was completely different.
Mason woke up Halloween morning and put his costume on, went to school, and had a perfect day. Latu (who gets the prize for auntie of the year) stayed up all night the night before to sew him a costume when his original costume idea fell through at the last moment. Instead of being a train, she made him a conductor's uniform, complete with a matching hat, all of which she had sewn from her own made-up patterns.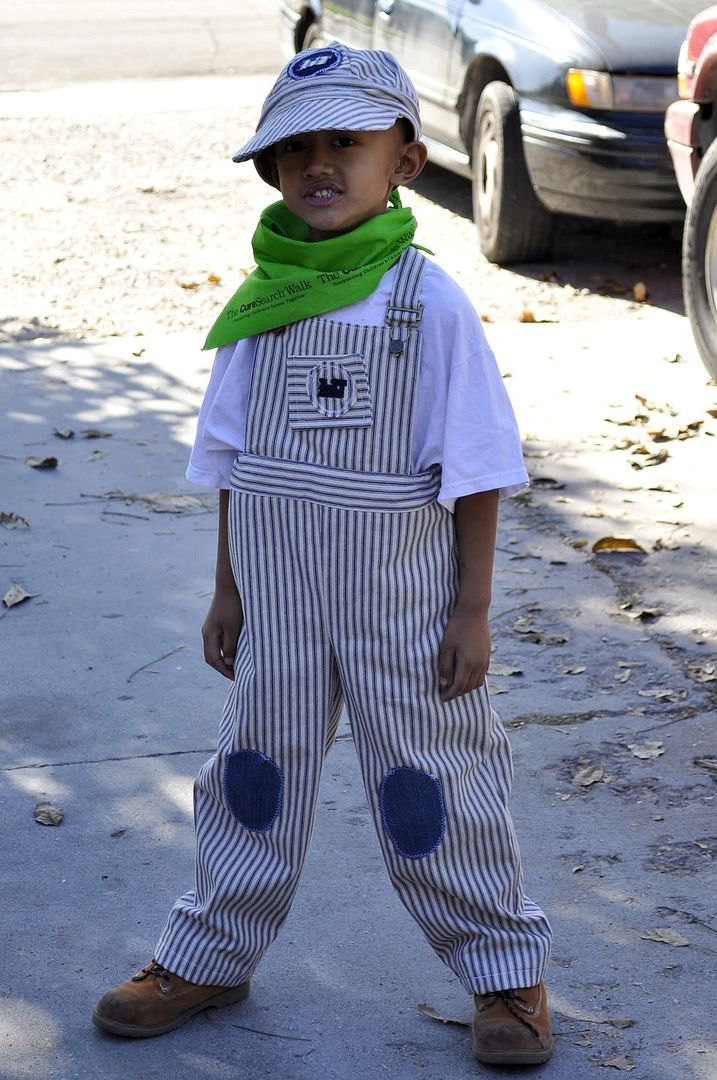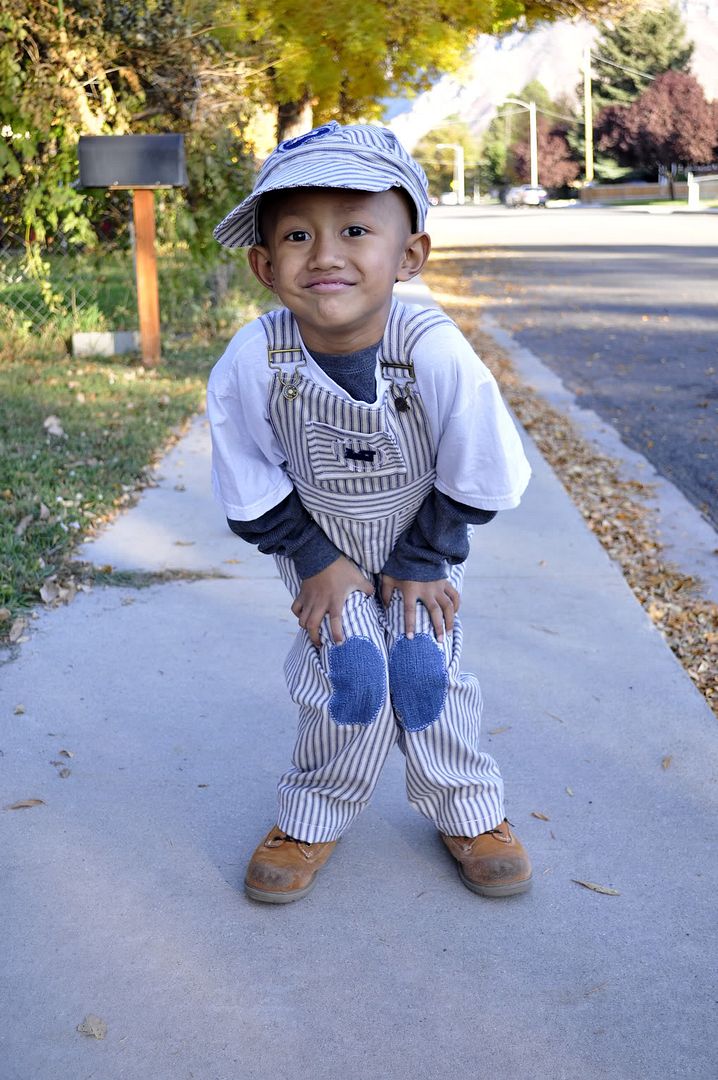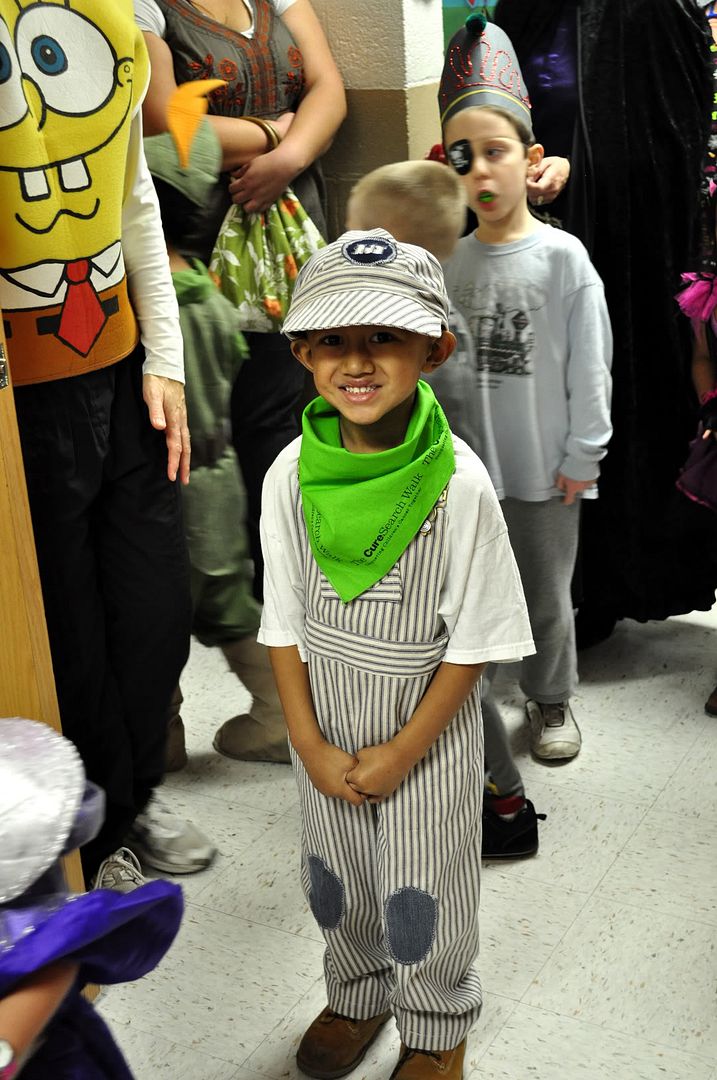 Isn't he cute? He was so proud of it! I took him trick-or-treating that night, and he told me over and over how much fun he was having, and how he never wanted to go home. <3
---
In other news, Mason had an appointment with the Ophthalmologist today, and we found out that he will need to get glasses because he was diagnosed with astigmatism in his eye (or eyes), and is nearsighted. He has been having pain in his eyes when he watches TV, has been constantly rubbing his eyes, and saying they hurt when he's in bright light. So we'll be getting him glasses soon, and that should help him so much more. Also, he may or may not be color-blind. His test results showed that he is (which explains why he is always mistaking things for the wrong colors), but the doctor thinks he may have gotten those results because Mason wasn't cooperating very well at that point. ;)
---
As for the GREAT news: It's something we've known for a few months, but it feels so good to have it confirmed.
At Mason's Oncology appointment today, his doctor came in and told Latu (who took him in for me so I could have a break. I told you...auntie of the year) that everyone involved with his case, including the awesome Dr. Riva-Cambrin, had gotten together to look at his MRI results from last week, as a group. They all agreed that
the tumor is completely gone
.
It's gone!!! Confirmed by a whole team of doctors; you can't get much better news than that!
She went on to tell Latu how amazing that is, especially considering how big the tumor was, and that it had spread to such an odd place (along the side of his head, and to right behind his eye); how without that
second surgery
he had, he would never have been able to receive the "standard risk" radiation and chemo treatments; how amazing it is that he didn't end up needing a shunt. I type these things not to brag, but because hearing those words reminds me what an amazing journey this has been, and how blessed we have been while on it. I have never seen more miracles in my life, than I have in the past year.
---
...which brings me to the last thing:
tomorrow is the 1-year anniversary of Mason's diagnosis.
It has almost been and entire year!
I don't know how we'll celebrate; I plan to donate blood tomorrow morning, and take mason out for cake from his favorite bakery. We'll probably do some other things, too. It seems silly to celebrate something that was so devastating, but I in celebrating it, I am also celebrating the fact that my son is alive, and healthy, and is going to be okay; that he's been through terrible experiences, and still finds the joy to smile and laugh and play.
Anyway, that's all I have for today. More tomorrow! :)